Your journey to "I do" is a magnificent adventure, filled with dreams, joy, affection, and the promise of a love that lasts a lifetime. That said, you want your wedding day to be nothing short of magical. It's a life-changing day you'll cherish forever, when time stands still, and the world witnesses the union of two hearts.
While planning a wedding can be exciting, we can't deny that orchestrating the perfect celebration can also be stressful. Think about venue research, vendor coordination, budgeting concerns, guest list drama, decision fatigue, and timeline pressures. In some cases, we tend to focus less on the magic of the moment and more on the overwhelming details of the big day.
Enter the allure of all-inclusive hotel packages, a comprehensive solution for couples seeking a simple, convenient, and stress-free path to their dream day. Want to transform wedding planning from a daunting task into a delightful journey? In this article, we'll unveil the benefits of choosing a hotel wedding venue and package.
1. Convenience and Reduced Stress 
Planning every aspect of the wedding can lead to stress and anxiety, especially as the big day approaches. Getting an all-inclusive hotel wedding package helps couples save time by having most wedding essentials bundled together. The hotel will take care of everything, including one-stop shopping for a venue, catering, décor, and often even coordination services.
For instance, this four-star hotel in Kildare includes the following in their wedding package:
Stunning ballroom for reception
Intimate ceremony locations
Bespoke, personalized menus, and table plan
Dedicated wedding coordinator
Red carpet arrival
Candelabras, centerpieces, and other decorations
Complimentary wedding suite
Champagne breakfast for wedding couples
With most details taken care of by the venue, couples can relax and enjoy the wedding day without worrying about logistics.
2. Simplified Planning
Couples must make countless decisions, from selecting vendors to designing every aspect of the wedding, which can be overwhelming, especially for those with busy lives. Hotel wedding packages take the worry out of your hands with a comprehensive and organized approach to planning. They simplify the planning process by offering pre-set options for menus, décor, and other elements, reducing decision fatigue.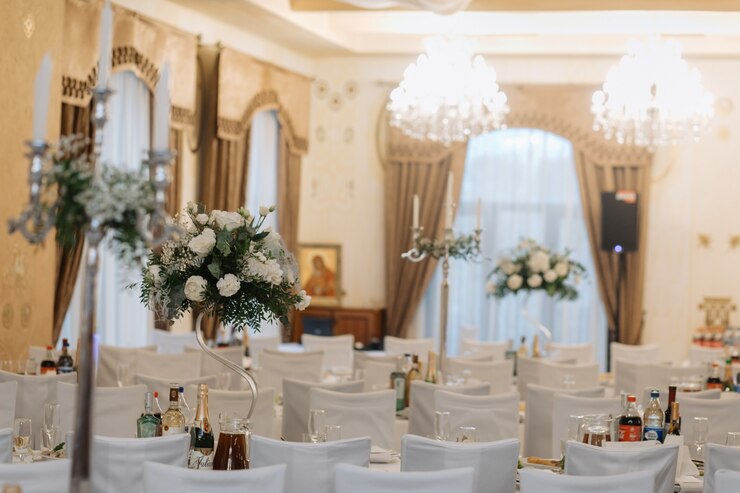 3. Expertise and Guidance
Couples are responsible for making decisions and handling logistics, which can be stressful, especially if they have limited event planning experience.
Hotel wedding venues with all-inclusive packages usually have experienced wedding planners who can guide couples through every step of the way. These professionals help them make informed decisions and ensure that details are executed flawlessly. If you wish to custom-design your occasion, you can rely on their entire hotel team with years of event planning experience.
4. Cost Predictability
Planning to stick to a budget? DIY weddings can involve multiple vendors with varying pricing structures, making it harder to predict and control expenses. With all-inclusive packages, couples often receive a clear, upfront price, helping them stay within their budget and avoid unexpected costs.
5. Time Savings
Planning a DIY wedding can be time-intensive, requiring couples to invest significant effort in the months leading up to the wedding. With wedding packages, couples save time on research, vendor selection, and coordination, allowing them to focus on other aspects of their lives.
6. Quality
From florists to performers, reputable venues with established packages often have high-quality vendors and services they regularly work with. This means that couples can expect a certain level of quality when it comes to services and products, reducing the stress of vetting and selecting vendors.
7. Guest Convenience
Hosting the wedding at a hotel is convenient for guests, as they can easily book accommodations and navigate between ceremony and reception spaces. This reduces potential travel-related stress for attendees.
8. Peace of Mind
The expertise of the hotel's wedding coordinator and the comprehensive nature of the package can give you peace of mind. Couples can trust that details are taken care of, leaving them to enjoy the journey and, most importantly, their wedding day.
On top of that, hotels are also equipped to handle unforeseen circumstances, such as inclement weather for outdoor ceremonies. They often have backup plans in place, providing peace of mind in case of unexpected challenges.
How to Make an All-inclusive Hotel Wedding Package Work for You
While all-inclusive hotel wedding packages can be a stress-free way to celebrate your special day, they come with some limitations. One common drawback is the lack of flexibility and customization.
Here are a few tips to make it work:
Research the venue thoroughly, read reviews, and ask for references from past couples who used the package.
Discuss customization options with the hotel's wedding planner.
Add personal touches to make the wedding uniquely yours.
Customize the décor, choose unique centerpieces, write personalized vows, or incorporate cultural elements to infuse your personality into the celebration.
Read the fine print carefully and ask for a detailed breakdown of costs.
If there's a specific photographer, florist, or musician you want to hire, inquire if they can work within the venue's guidelines.
Think an all-inclusive hotel wedding package is for you? Ultimately, the decision to opt for an all-inclusive hotel wedding package depends on the couple's priorities, preferences, and willingness to trade customization for convenience. These packages offer a seamless, stress-free wedding celebration. allowing you to focus on what truly matters: celebrating your love surrounded by friends and family. 
Author Bio: Carmina Natividad is a foodie and travel blogger who hates being locked up at home. Her fondness for travel, food, and cultural appreciation makes it easy for her to write inspiring pieces of content about them. To know more about hotels and travel blogs, you may visit Osprey Hotel Kildare.